Game Title: Gunship Recon
Genres: Action
Developers: Sonic-Alpha
Publisher: NS
Release date: 8 May, 2019
A simple operation helicopter arcade game.
There are various missions such as destruction of enemy weapons, rescue of hostages, assassination and destruction of enemy facilities.
A game based on the conflict between Willsword (the player's country) and Maxell (the enemy country).
8 levels in all.
The game feature that can be easily replayed.
Simple control. You can aim at the enemy while stopping on the spot. This is useful, but the pleasure as a flight simulator is halved.
Various terrain and weather.
Damage caused by a collision on the ground is minimal.Instead, the physical inertia from the impact makes it harder for the player to maneuver the helicopter.
The battlefield is 2 kilometers square except for some levels. It will be game over when you go out of the area.
The enemy is not only ground weapons, but also unmanned airplanes.
Allied flying squadrons will protect you.
Since only the machine gun can be used in the first half of the game, you need to aim at the enemy accurately.
In the second half of the game, you can use homing rockets, which makes the game play more like arcade games.
This game uses music selected carefully from the previous songs composed by Sonic-Alpha.
You need a graphics board to play this game.
The graphic settings may optimize the sensitivity of the mouse.
I think that the setting of the joystick can be done at the first boot screen. (Test play is not done with the joystick)
This game is not good as a flight simulator. (It is an arcade game)
It does not officially support joysticks or controllers. (May be usable with key assignment)
The play time of the level seems shorter than other games.
Control
C: Change camera
ESC: Pause, return to menu screen
Mouse: Ascend, descend,turning
Right mouse click: Change weapon
Left mouse click: Shoot weapon
W: Speed up
S: Speed down
A, D: Move the helicopter left and right
Screenshot :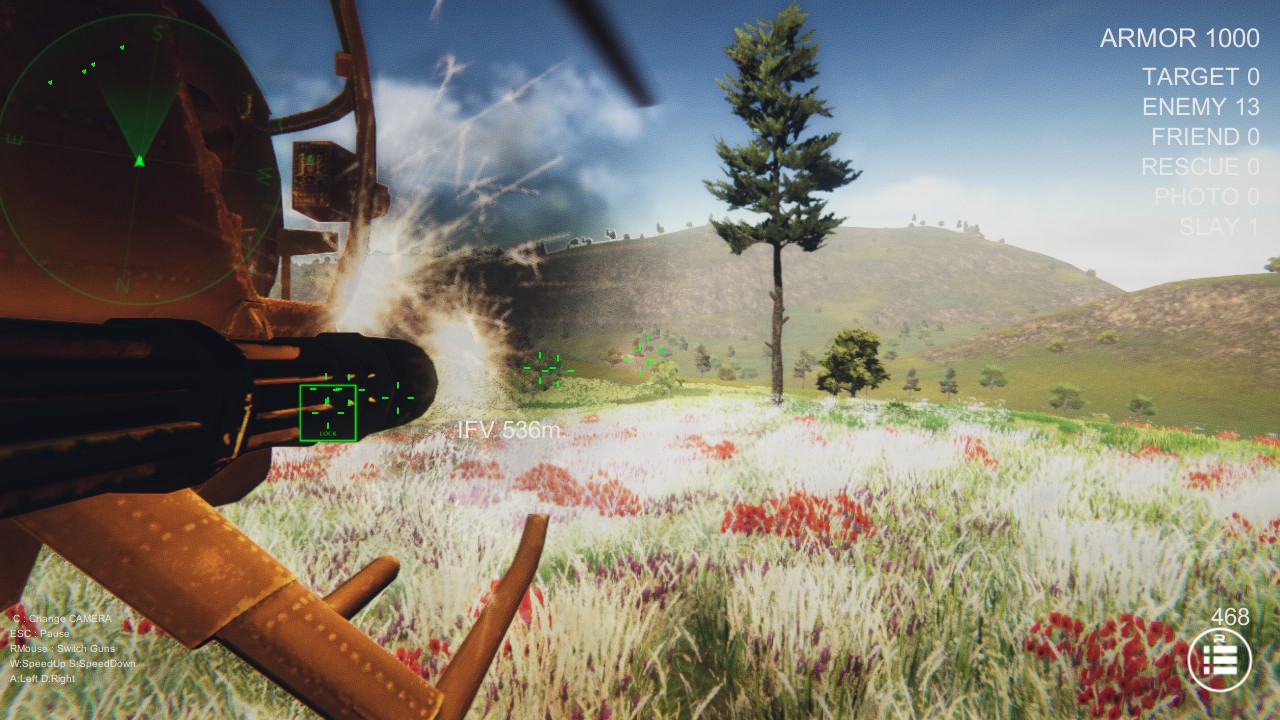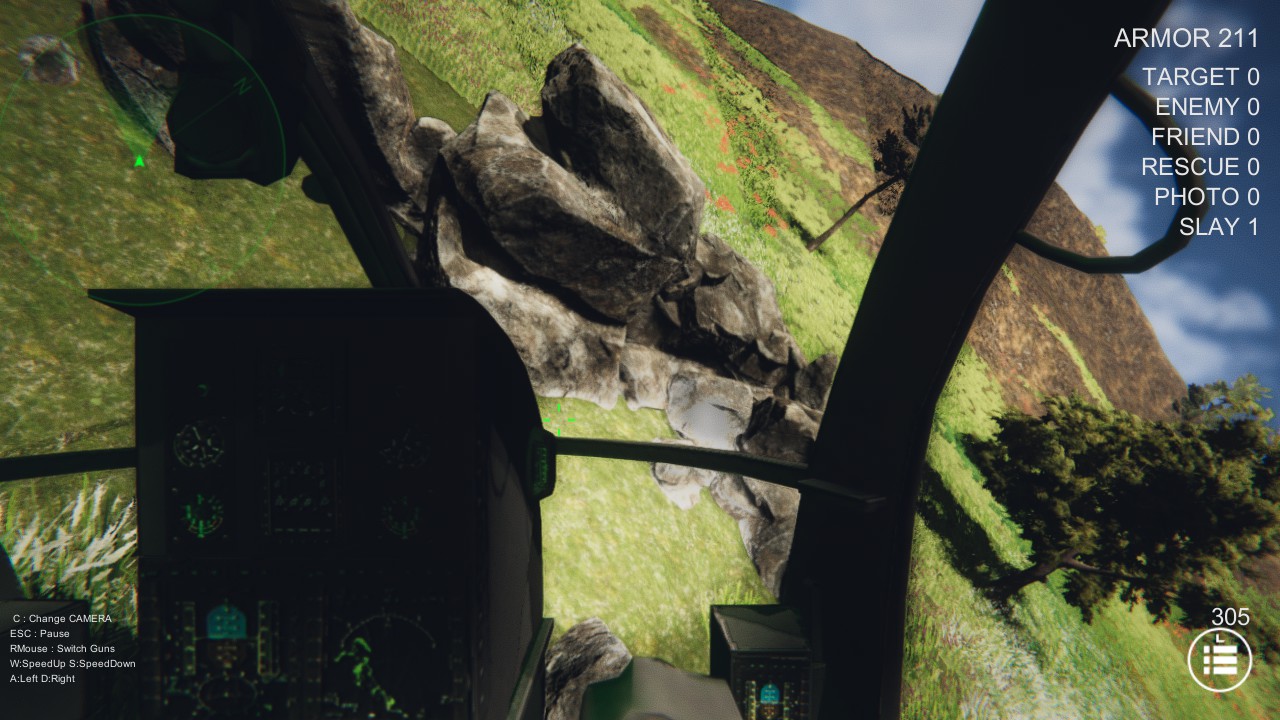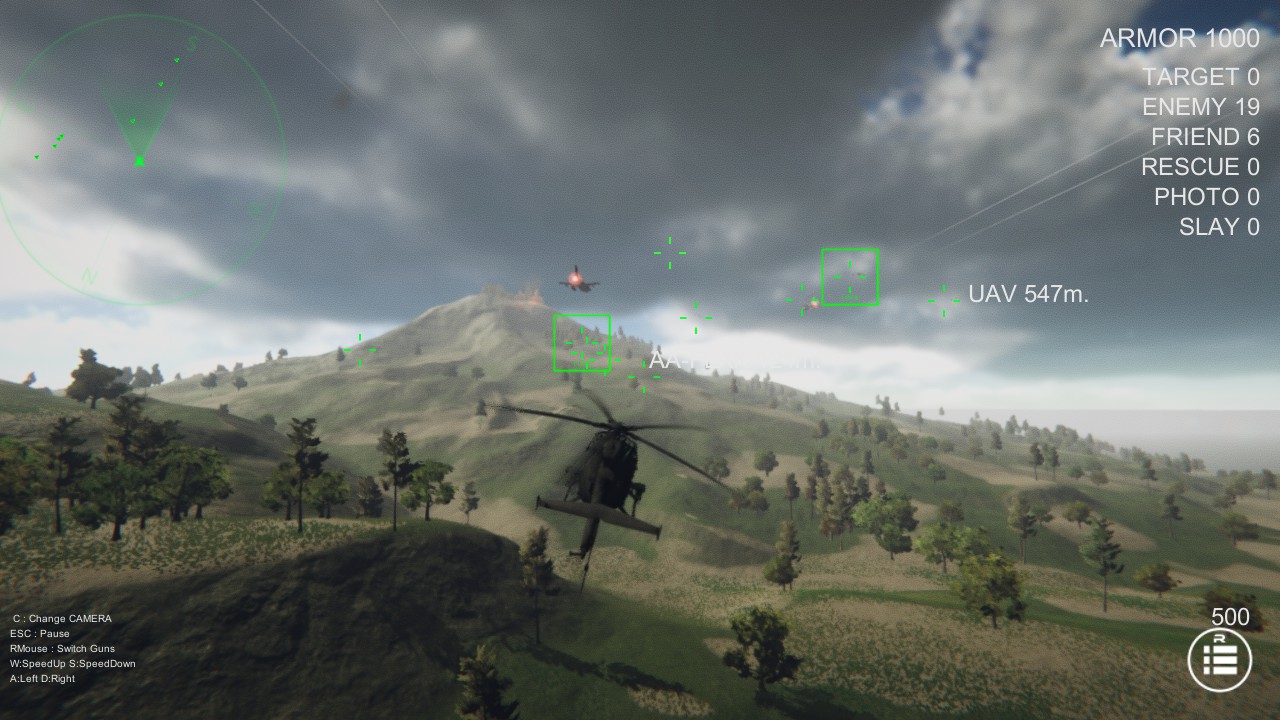 System Requirements :
Minimum:
OS: Windows 7,8,10(64bit)
Processor: Intel Core i3 7th
Memory: 4 GB RAM
Graphics: Nvidia GTX 1050ti,AMD Radeon RX560
DirectX: Version 11
Storage: 4400 MB available space
Recommended:
OS: Windows 7,8,10(64bit)
Processor: Intel Core i7 7th or higher
Memory: 8 GB RAM
Graphics: Nvidia GTX 1060 or higher
DirectX: Version 11
Storage: 4400 MB available space
Download :